One of the most challenging subjects to photograph is newborn babies which is surprising given how small they are! It's one thing to snap photos of newborn babies but another thing to have them represent something so tiny, innocent and filled with love. Below are some tips I have discovered over the years that you can use to strengthen your newborn photography.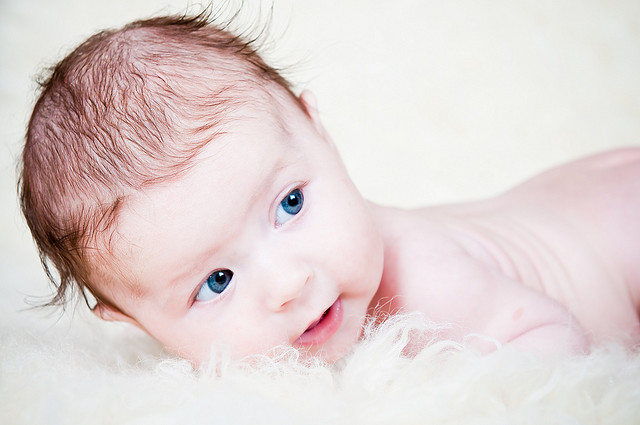 1. Use props to show size comparison.
When babies are newborn, they aren't for long! Parents will want to look back on these photos to see how much their little ones have grown. If you include some sort of reference in the photo it can help the viewer understand how tiny the baby is. Some items I have used are teddy bears, Dad's hands, balls, measuring tape, and things like that.
2. Focus on details.
There are so many adorable details to focus on when photographing newborns. Their little fingers are so tiny, their little toes are tiny, and their facial expressions are to die for. Try to find these little baby details and capture them on camera.
3. Simplify your photos.
It is easy to set too much of a scene when photographing newborns. I have seen some photographers go overboard with pink and bows or blue and boy things. When in doubt, leave it out. Sometimes something simple like a plain white or black backdrop will really make the attention on the baby and not on the props. Try it out if you haven't already and see what you think.
4. Include siblings if it's an option.
This is not something every photographer focuses on, but it can really capture the mood and excitement of the family when having a new tiny member. Siblings grow up and sometimes part ways, so capture their closeness and pride when you can.
5. Play around with props but also natural shots.
It is tempting to put babies wherever they will fit whether it is in a pot or a cute basket… yes, I've seen it all and have been guilty myself of awkward baby placements. While props can be fun, don't forget to play around with shots of the baby laying in various positions. Often, you can "suggest" a position for the baby to lay in by moving their arms and legs. Many times they will stay, many times they won't. This is the beauty of photographing a tiny human!
6. Know your customer's preferences.
This is something we often forget about as well, but make sure you are talking with your customers to learn what their preferences are. Often, Mom and Dad will come with ideas for photo ideas and you want to be sure to ask them what those are. Some prefer very "organic" shots and others love the bells and whistles of props. While you can suggest ideas and try them out, ultimately you will need to focus on what the customer wants.
7. Encourage mom to get in front of the camera.
Most moms are not eager to put themselves in front of a camera immediately after having their baby, but mom and baby is also a very important photo. There are ways you can gently urge Mom to get in front of the camera with her newborn and there are a lot of ways you can pose your subjects in a way that will make Mom feel confident.
8. Let the baby inspire you.
Every newborn is different looking (some would argue this, but I at least have photographed enough babies to know that they are all unique). Find their unique features whether they have full lips, a pouty face, stubby toes, cute dimples, and focus on those. If you take the time to get to know each baby it is guaranteed you will find some unique and cute features to focus your photography on.
Last but not least, be prepared! You will want to have a variety of scenes, props, blankets, headbands, pillows, and maybe even a change of clothes (I've heard stories but haven't needed a change of clothes myself). Photographing newborns can be very rewarding and this special time for families is a moment to cherish forever.